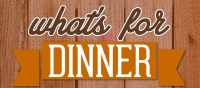 Whats for Dinner Special! The $60 meal (*COLD*) for 5 during the week of November 20-22 is
Cranberry Orange Relish
Roasted Turkey with Gravy
Red Roasted Creamed Potatoes
Green Beans
Cornbread Dressing
½ dozen Fresh Baked Yeast Rolls
Thanksgiving What's for Dinner orders may be placed until 3pm on Friday November 18th.
Pick up on Monday and Tuesday is from 2pm - 5pm
Pick up on Wednesday is from 10am - 2pm
Deliveries are available at an additional charge.
To place your order,
**When placing your order please specify which day, what time, and how many meals you will be picking up.**
Meals will be prepared and ready for the customer to cook. Cooking instructions will be included. No substitutions will be allowed.