Thank you for your orders! Our kitchen has reached max capacity for 2020 Thanksgiving orders.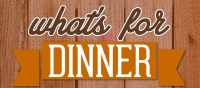 Whats for Dinner Special!
The $62 meal (*COLD*) for 5 during the week of November 23-25 is
1 Pint Gravy
Cranberry Orange Relish
Pulled Turkey with Gravy
Cornbread Dressing
Creamed Potatoes
Green Beans
1 dozen Rolls
Thanksgiving What's for Dinner orders may be placed until 3pm on Friday November 20th.
Pick up on Monday - Wednesday is from 2pm - 5pm
Deliveries are available at an additional charge.